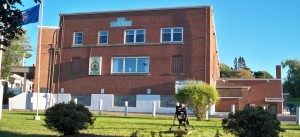 Welcome to the Colchester Branch 026 of the Royal Canadian Legion. The Colchester Branch of the Royal Canadian Legion received their charter in October 1928 and has been a proud member of the Truro, Nova Scotia community ever since. Funds raised through the Royal Canadian Legion support veterans and their families as well as serving the community at large.
Don't miss the JUNE article "The Battle of Normandy" in the Heritage Room under the About tab: http://www.trurolegion.ca/heritage-room/
---
Chase the Ace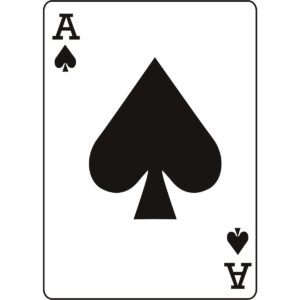 The Legion is partnering with
Scotia Pool
Saturday, September 23, 2017
Truro Legion
Starting Jackpot: $13,702
Ticket sales: 2-4pm
Draw: approx 4:15pm
22 cards remaining
Must be present to win
Everyone welcome!
Snowball 50/50 draw
Every Monday morning.
Pot is $310
Name drawn: Martane May – Not signed in!
Sign in during the week in the canteen – Members only ($2)
Need Ice? Only $1.50 per bag from the canteen.
Fish & Chips is Back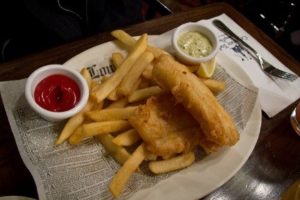 Friday, September 29, 2017
5:00 – 7:00pm Unless Sold Out
Cost $8.00 Per Person
In the Lounge
Ladies Auxiliary Celebrate 70 Years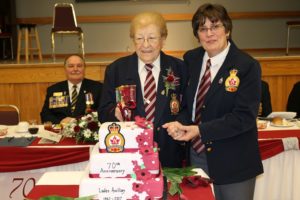 Florence Hamilton cuts the 70th anniversary cake with Ladies' Auxiliary President Christine Naugle as Nova Scotia Past-President Steve Wessel looks on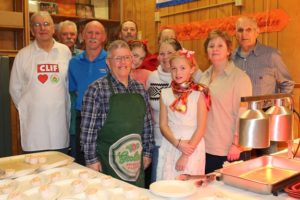 Fish & Chips Helpers
Silent Auction
Friday, September 29, 2017
5:00pm – 8:00pm
In the Games Room
Bid on the Auction items as you enjoy Fish & Chips!
Branch 26 Eldest Member Celebrates 101 years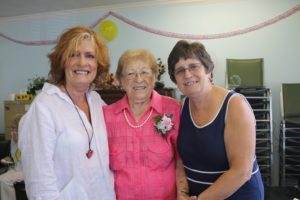 Sandra Dill, Legion executive member and Christine Naugle, Ladies Auxiliary president celebrate Florence Hamilton's 101 years
Wings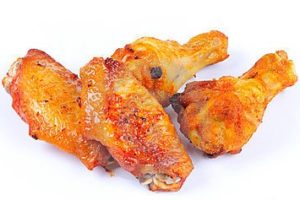 Restarting Fall 2017
In the Lounge
2 – 5pm
Unless sold out
Pork Chop Barbecue

Saturday Sep 23, 2017
Take Out Only
Pick up between 5pm and 6pm
Tickets available until Sep 20
at Truro Legion Canteen
COST: $8.00 per plate
Everyone Welcome!
Legion presents assististive reading device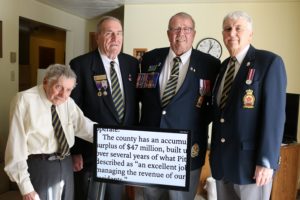 Alan MacPherson, Adrian Armsworthy – President, Bill Herron – Service Officer, and Wilson MacDonald
The Royal Canadian Legion Colchester Branch 26, Truro recently presented an assistive reading device to Alan MacPherson. Alan's comment was "At last I can read the newspaper again".
---
100th Commemoration of the Battle of Vimy Ridge

April 9, 2017 has been proclaimed Vimy Day in Truro by the Truro town council because of the heroic contribution made by hundreds of Nova Scotians to ensure success of this epic battle during this First World War battle.
All Legion members are encouraged to take part in the Parade or attend as spectators. Our goal is to recognize the sacrifice of the young men who fought in the battle of Vimy Ridge 100 years ago.
---
PASSCHENDAELE
Canadians have a proud history of bravely serving in the cause of peace and freedom over the years. A name from Canada's First World War military heritage that still stirs emotions is "Passchendaele." On a muddy battlefield in northwest Belgium, Canadians overcame almost unimaginable hardships to win an impressive victory in the fall of 1917.
Read more about Canadians at Passchendaele (Click here)
---
Important Links
Subscribe to National Legion Updates
Royal Canadian Legion 26
Supporting veterans and their families as well as serving the community at large.